This week, I am featuring the crop of Nigerian's acting talents of TV, Film and Theatre who have attained prominence in the international stage. Many of them you see in major Hollyood blockbusters but might not realise they are Nigerian.
Here is my top 10 International Nigerian Actors.
Charles "Chucky" Venn
Charles Venn (born Charles Okechukwu Venn) has plied his trade professionally in the acting business for eleven years. His big break came when he auditioned for the role of Curtis Alexander on hit Football soap Dream Team on Sky One. He also landed a featured role in Medical Drama Holby City(BBC1) as well as The Bill (ITV). After which he then swapped Sky 1 No.1 soap for ITV's Footballers Wives. Charles has featured in 'Return to House on "Haunted Hill" and Blockbusters 'Bourne Ultimatum', 'Batman The Dark Knight", 'Thick as Thieves' with Morgan Freeman & Antonio Banderess, 'Sharpe's Peril'(ITV) with Sean Bean and the horror sequel 'Wrong Turn 3', as well as strong performances in the Olivier nominated hit plays Iya Lle 'The First Wife'(Soho Theatre) and hit musical 'Annie Get Your Gun'(Young Vic Theatre), with Jane Horrocks, playing the first Black 'Buffalo Bill'.
Chucky played a lead role in the action movie 'Ghost Recon Alpha' with Oscar Winning directors Herve De Crecy & Francois Alaux, as well as featuring in the Tragic Theatrical Drama 'Wedlock Of The Gods'(Cochrane Theatre) and a National Tour of the hit play Keeler with Paul Nicholas. After landing a role on hit No1 TV show EastEnders(BBC1) playing Ray Dixon, Charles received an MVSA & Screen Nation Award for Best Male TV Star.
Hakeem Kae-Kazim,

Hakeem Kae-Kazim is a Nigerian actor best known for his portrayal of Georges Rutaganda in the 2004 drama film Hotel Rwanda.
Classically trained in the UK at the highly regarded Bristol Old Vic and soon after graduation was invited to join the Royal Shakespeare Company.
Hakeem's list of impressive credits include Pirates of the Caribbean III, Lost, Cane with Jimmy Smits, Law & Order: SVU with Mariska Hargitay, The Triangle with Sam Neill, The Librarian with Gabrielle Anwar, X-Men: Wolverine with Hugh Jackman, The 4th Kind alongside Milla Jovovich and Darfur with Billy Zane. Hakeem is often recognized for his recurring role as Colonel Dubaku, through which he wowed audiences with his stunning performance in 24's' Season 7, and in the prequel movie Redemption.
Hakeem both produced and starred in Black November with Mickey Rourke and Kim Bassinger, as well as the award winning film Man on Ground and Last Flight to Abuja. His distinctive voice has also been shared in many popular video games including Halo, Call of Duty and The Bourne Conspiracy. Hakeem's TV work, includes many prime time shows including Human Target, Criminal Minds, NAVY NCIS, Law and Order, Cobert Affairs and Strike Back. Hakeem's latest films Half of a Yellow Sun and A Chance of Rain
Chiweitel Ejiofor

Nigerian born Chiwetel attended Dulwich College in South-East London. By the age of 13 he was appearing in numerous school and National Youth Theatre productions and subsequently attended the London Academy of Music and Dramatic Arts.
In 1996 Ejiofor caught the attention of Steven Spielberg who cast him in the critically acclaimed Amistad (1997) alongside Morgan Freeman and Anthony Hopkins. He has since been seen on the big screen in numerous features including Stephen Frears' Dirty Pretty Things (2002) (for which he won Best Actor at the British Independent Film Awards, the Evening Standard Film Awards, and the San Diego Film Critics Society Awards), Love Actually (2003), Woody Allen's Melinda and Melinda (2004), Kinky Boots(2005), Inside Man (2006), Children of Men (2006), American Gangster (2007), and Talk to Me (2007), for which his performance won him an Independent Spirit Award for Best Supporting Actor.
In 2014, Ejiofor starred in the Nigerian film Half of a Yellow Sun alongside Thandie Newton and in 12 Years a Slave (2013), for which he received Academy Award, Golden Globe and Screen Actors Guild nominations, along with the BAFTA Award for Best Actor.
Nonso Alozie

Born in 1979 in London, England, Nonso is an actor, known for big Hollywood movies such as The Grey(2011), Atonement (2007) and Cinderella (2015). He was awarded the Ian Charleson Award in 2005 for his performance as William Shakespeare's "Othello" in an production by Cheek by Jowl theatre company. Graduated from Central School of Speech and Drama, London in 2002. He was the winner of the 2004 Magnolia Stage Performance Award in China and was the first non-Chinese to be honoured with the prize of best actor. In the summer of 2002 he became the youngest person in history to play William Shakespeare's "King Lear" professionally.
In 2011 he was also cast to play the role of Xaro Xhoan Daxos in the HBO series Game of Thrones and was cast as Jackson Burke in The Grey. He also plays the role of Samson in the History Channel's television miniseries The Bible.
In 2013, Anozie appeared in the film Ender's Game as Sergeant Dap, and from 2013 to 2014 he played the role of Renfield on the NBC series Dracula
Carmen Ejogo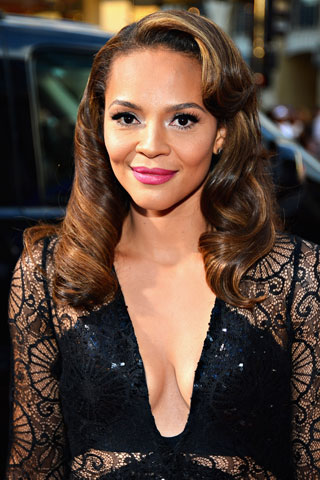 Carmen Ejogo was born in Kensington, London, England, to a Nigerian father and a Scottish mother. Ejogo's television career began in the UK in the early 1990s, where she presented the children's series Saturday Disney (1990). Subsequently, she has had an acting career in the US. She has appeared in "Metro" with Eddie Murphy, What's the Worst That Could Happen? (2001) with Martin Lawrence, and Love's Labour's Lost (2000) with Kenneth Branagh, among other films, and also presented The Carmen Ejogo Video Show – her own video show on BSB's Power Station channel. She starred as Thomas Jefferson's slave concubine in the television drama Sally Hemings: An American Scandal (2000) as Sally Hemings and also as Sister Anderson in the remake version of the cult classic original film Sparkle (2012).
Raz Adoti

Razaaq Adoti (a.k.a. Raz) was born in England to Nigerian parents. He started on the stage at age 17. While still in college, he was cast as Nathan Detroit in the National Youth and Music Theatre Company's (NYMT) production of Guys and Dolls.
He earned his Bachelor of Arts degree in acting at the prestigious Central School of Speech and Drama. Upon graduation, he was signed by one of London's most reputable talent agencies.
In 1997, he was cast in a major supporting role in Steven Spielberg's epic, "Amistad"
After completing Amistad, he returned to London and worked on various television and film projects. In 2001, Adoti played the main antagonist in Ridley Scott's "Black Hawk Down" Yousuf Dahir "Mo'alim".
Since then he has gone on to co-star in Resident Evil: Apocalypse, opposite Milla Jovovich, and most recently the movie "Cover" directed by Bill Duke.
Adoti's past television credits include Sky One's award-winning television drama "Dream Team" BBC's BAFTA award-winning miniseries "Holding On", ITV's award-winning television drama, "Soldier Soldier" and Channel 4's controversial miniseries "Men Only"
John Boyega

John Boyega was born on March 17, 1992 in Peckham, London, England. He is an actor, known for Attack the Block (2011), Imperial Dreams (2014) and My Murder (2012).
John began acting at Theatre Peckham, a local performing arts centre for talented children aged 9 to 14. Boyega spent almost every day after school at the theatre, as well as weekends. At 16, he moved to South Thames College to study performing arts, and joined the Identity School of Acting in Hackney, London. He enrolled at Greenwich University but as his career took off, he left to concentrate on acting.
Born and raised in Peckham, south-east London.
Was chosen by Screen International as one of the "UK Stars of Tomorrow 2011" and appeared alongside two other actors on the front cover of that magazine in its July 2011 edition.
The son of Nigerian immigrants; his father is a Pentecostal preacher and his mother works with the disabled.
He played the role of Finn in the 2015 film Star Wars: The Force Awakens.
Sophie Okonedo
Trained at Royal Academy of Dramatic Arts, (RADA) her father, Henry E. B. Okonedo, was Nigerian. Her mother, Joan (Allman), is from a Jewish family (they immigrated from Poland and Russia to England).
Sophie is a graduate of Cambridge University who in 2005, became the first black actress since Angela Bassett in 1994 to receive an NAACP Image Award nomination for the same role in which she was nominated for an Oscar.
She was awarded the OBE (Officer of the Order of the British Empire) in the 2010 Queen's Birthday Honours List for her services to drama.
In her very first Broadway play, as Denzel Washington's wife in "A Raisin in the Sun," she won a Tony Award for best featured actress in a play. Later, following her acceptance, she said that one of the best things about her Broadway debut was that she got to say she was "Denzel Washington's wife.".
David Oyelowo

David Oyelowo, is an actor, producer, director, and writer born in Oxford, England to Nigerian parents. He is a classically trained stage actor who has quickly become, following his appearance on Rise of the Planet of the Apes, one of Hollywood's most sought-after talents.
He graduated from the London Academy of Music and Dramatic Art (LAMDA), and received the "Scholarship for Excellence" from Nicholas Hytner in 1998.
He has played supporting roles in the films (2011), Middle of Nowhere (2012), Lincoln (2012), and garnered praise for portraying Louis Gaines in The Butler (2013). On television, he played MI5 officerDanny Hunter in the British series Spooks(2002–04), and as of 2014, provides the voice of Imperial Security Bureau agent Kallus on the animated series Star Wars Rebels In 2014, Oyelowo played Martin Luther King, Jr.in the biographical drama film Selma, for which he received a Golden Globe Award nomination for Best Actor (Drama)
Adewale Akinnuoye-Agbaje


Born and raised in London, England, Adewale Akinnuoye-Agbaje began his career as a model in Milan. He graduated with a masters degree in Law from London's prestigious Kings College, before moving to Los Angeles to make the transition to acting. Fluent in several languages, including English, Italian, Yoruba and Swahili, he is best known for his roles in the movies Congo (1995) and The Mummy Returns (2001), and the HBO series Oz (1997)
Adewale holds a Masters degree in Law from the University of London, but took a different career path when bitten by the acting bug. He Is perhaps best known for his role as the cunning, fierce super-criminal Adebisi on Oz (1997). He went from playing Ernie Hudson's good friend, the guide "Kahega" to Hudson's "Capt. Munro" in Congo (1995), to playing his enemy, the sociopath "Adebisi" to Hudson's hard-headed "Warden Glynn" in Oz (1997).
Adetomiwa Edun
Adetomiwa Edun was born in 1984 in Lagos, Nigeria.


He is an actor, known for Cinderella, (2015), BBC1's Merlin (2008 – 2014) and Dying of the Light (2014).
He read classics at Christ's College, Cambridge, and won the dissertation prize in his final year for a thesis on Homer's Odyssey. He was educated at Eton, Cambridge, and RADA (Royal Academy of Dramatic Art).
He also played Macbeth in a production of the eponymous play by the National Theatre, earning praise for being "charismatic" and a "fine verse speaker".In 2009, Edun became only the second black actor to play Romeo at the Globe Theatre when he was cast in Dominic Dromgoole's production of Romeo and Juliet.He also appeared in Slaves, a play by Rex Obano.
Edun has also appeared in several television shows. In 2009, he appeared in an episode of The Fixer, before a role in Law & Order: UK as a soldier returning from the war in Afghanistan.
Copyright Jummy Ariyo
Also published in London Digest Column for City People Magazine
June 2015